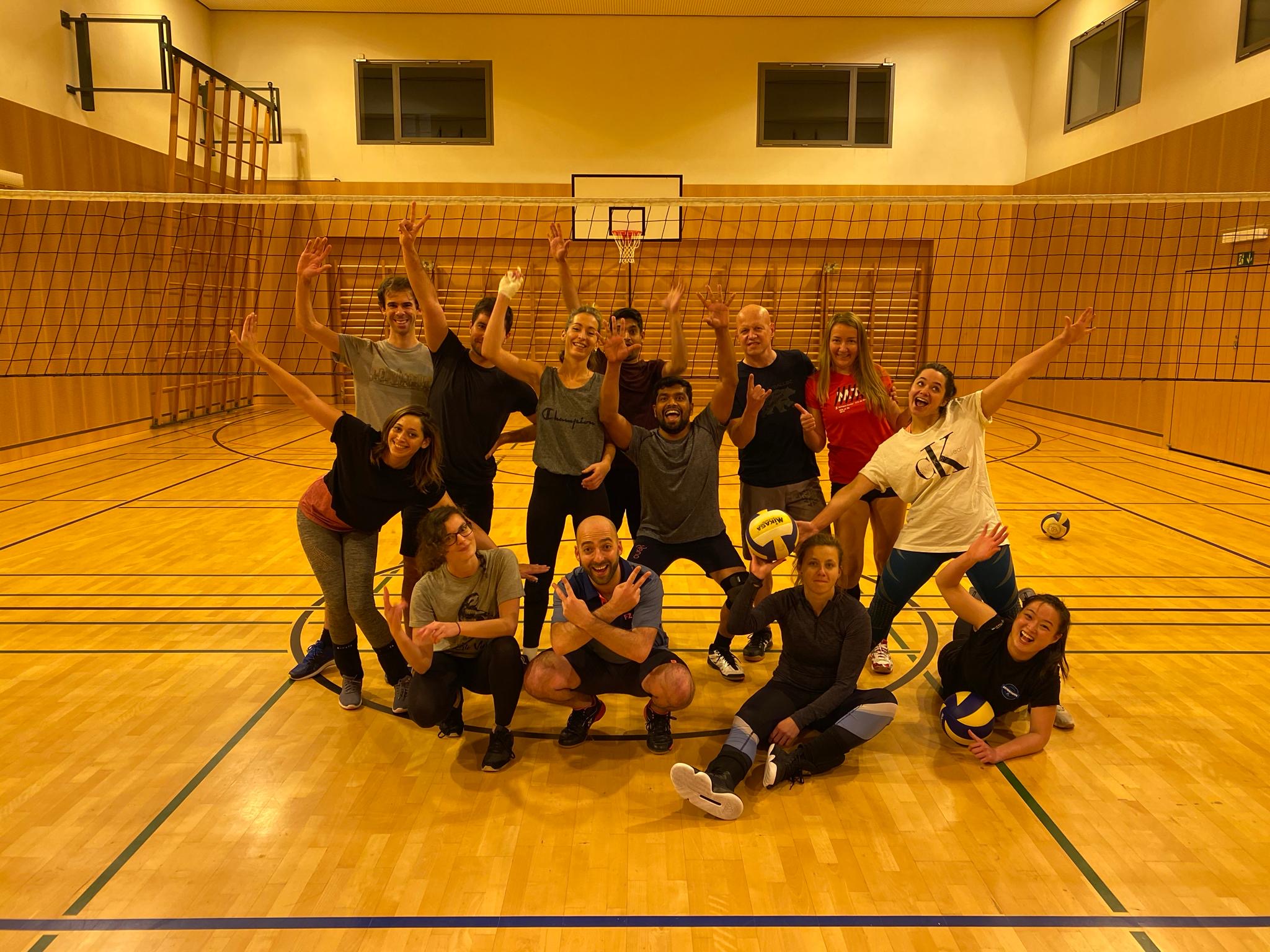 What could be more awesome than a sport where hitting a ball towards the sky with any part of your body makes you a good player?
Most of us have played some kind of volleyball at some time or another, but playing it on a proper court with a proper net and 6 vs 6 makes it much more interesting and fun than just hitting the ball with one or two people at the beach or the park.
As easy to learn as counting to three, volleyball is a sport suitable for everyone. No need to be built like a body-builder or to have specific skills, being able to stand on your feet might be the only requirement necessary.
In a school gym
6 vs 6
Up to 14 players (one substitute per team)
All levels mixed
In the city centre
Easy to start
Fun and relaxed atmosphere
Fee: CHF 10.- for two hours to pay in advance when you arrive.
What to bring: Bring indoor sports shoes and sports clothes. 

There is a locker-room and showers if needed.
Access:

Please refer to the information provided on the corresponding map.
Meeting point:

Please refer to the information provided on the corresponding map.
Note: Please do not cancel your RSVP on the day of the event. Any cancellation less than 24h before the event will be charged.
Please only answer "going" if you are sure to come as places are limited.
Please note that the event will be cancelled if the minimum participant required is not reached.

Please note that the organiser declines all responsibility for any injuries during the activity.
Access: Bus 2 until stop "Musée d'ethnographie" and walk 2 minutes or tram 12 until stop "Plainpalais" and then walk up 6 minutes. The venue is face to the MAMCO museum.
Meeting point: We will meet directly inside the gym which is on your left after the entrance. You have to go downstairs, cross the locker rooms and then go upstairs. The gym is on your left.

In case you have some trouble to find us or any questions, please send a message to the host.
Where: Collège Calvin
Corner of rue Jacques-Dalcroze and Ferdinand-Hodler
GPS coordinates: 46.20076409382394, 6.15241899986149 (https://www.google.com/maps/)
Price: 10 CHF
Days & Time:
Friday 6pm to 8pm (3 on 3 volleyball)
Access: Bus 8 until stop "Rive" and then walk up hill 10 seconds and turn left. Walk until you reach the corner of rue Jacques-Dalcroze and rue Ferdinand-Hodler you should see a big metal double door. It's in there.

 
Meeting point: Let's meet 10min before in front of the school main entrance. If you arrive later, after the entrance, go downstairs and follow de corridor until the third gym (the one with the rock climbing wall) and go downstairs again.