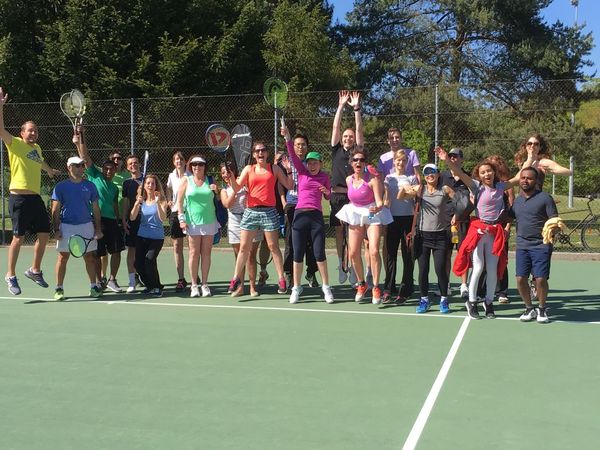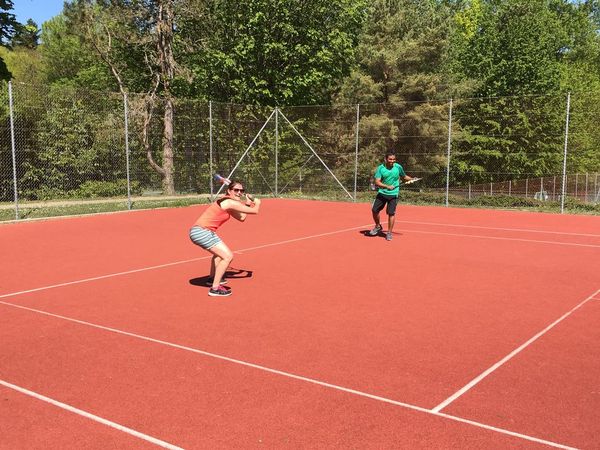 Ever heard of Roger Federer? Well, doesn't matter if you have or haven't as you won't see him or anybody else close to his level at this activity.
But if you want to have a good time under the sun hitting balls and meeting other tennis lovers, then this activity is made for you! Played in rotation and doubles. 
Warning! Tennis sessions are often followed by a drink or two and it's very hard to resist after all that effort, so you've been warned!
Note: Tennis is only proposed in summer.
Usually on 4 to 6 courts depending on availability
16 to 24 players (2 vs 2)
Levels not mixed
In a private club and on clay
Best if you've already played some racquet sports
Fee:

CHF 20.- for two hours (not possible to pay only for one hour) to pay in advance when you arrive.
What to bring: Bring a tennis racket (I may have some old rackets if you really need but please ask me first); We'll bring the balls. Bring also proper tennis shoes and sports clothes. There is a locker-room and showers if needed.
Tips: want to improve or to learn some new tricks from a professional coach so you can improve your skills? Your wish is granted! Lessons are organised regularly so stay tuned.
Meeting point:

We will meet directly on the closest tennis court to the beach volley.
Note: Please do not cancel your RSVP on the day of the event. Any cancellation less than 24h before the event will be charged.
Please only answer "going" if you are sure to come as places are limited.
Please note that the event will be cancelled if the minimum participant required is not reached.

Please note that the organiser declines all responsibility for any injuries during the activity.